Care

Dishwasher safe
Hot/Cold beverage safe
Red wine/coffee safe

Ship

Shipped within 1 week of purchase
Tracking number provided
Return at buyers expense a review.

Custom

Not currently taking on custom work
Make sure to sign up for my newsletter to get notified when custom orders reopen
Deep Dive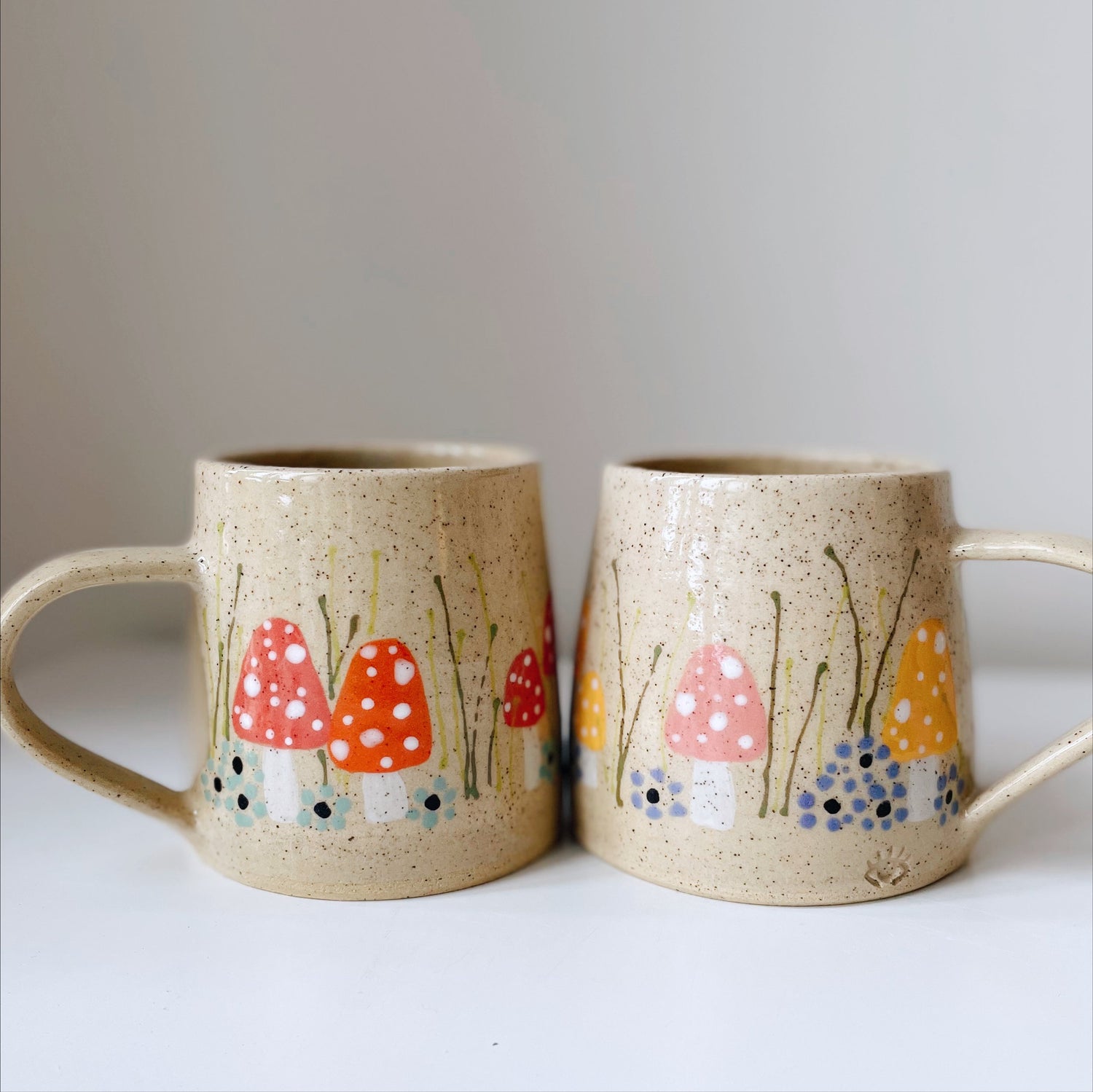 Buying Handmade

Part of what makes buying handmade goods special is the evidence on each piece of the hands that made them. No two pieces will ever be identical and as a maker, that is something I have chosen to embrace! Size and color may vary slightly even when a piece is made with the same amount of clay and fired in the same kiln. I make every effort to represent each pot accurately in the listings. If all this sounds good to you, you're in the right place!
Pottery Care and Use

Each piece of pottery is fired at least twice in the kiln. This part of the process vitrifies the clay so that it is no longer porous. That means nothing can be absorbed into the ceramic. Hand washing will always extend the life of any piece however, all of my functional work (mugs/tumblers, etc) is dishwasher & microwave safe.

* Exception: If your piece has gold on it, do NOT microwave or put in the dishwasher

Two questions I get a lot:

Red wine and coffee: will these drinks will stain your pots? I can say wholeheartedly that I have personally tested this very thoroughly, staining is not an issue.

Hot drinks in tumblers: tumblers can be used for both hot and cold drinks. It comes down to personal preference. If you prefer a handle for your hot drinks, a mug is the way to go.
Pick Up Locations

There are two locations where you can pick up your package.

Curious Eye Studio: (Default)

2050 Scotia Street. Vancouver, V5T4T1

The Clay Warehouse:

1770 McLean Ave. Port Coquitlam, V3C 4K8

When your order is ready for pick up you'll be notified. You can reply to that message and let me know if you would like to pick up in PoCo.
Shipping

I do my best to get "ready to ship" items out as soon as possible. Packages are shipped via Canada Post. If you live outside North Amercia and would like to make a purchase please contact me to get a shipping estimate. Thank you!
Packaging

Keeping your purchase safe and in the same condition it was when it left the studio is my top priority. Whenever possible I use recycled/recyclable shipping materials. I save packing from mail I receive and often have friends gift me packing that they get as well. When I need to purchase material to keep your pots secure I try to ensure that it is the most eco friendly choice available.
Returns and Exchanges

I do not accept exchanges due to the small level of inventory that I have on hand at any given time. If you are not 100% satisfied with your pots I will work with you to make things right. I do accept returns, shipping costs are the responsibility of the buyer.
Damaged Items

If you receive your package and there is any damage at all, please contact me immediately. Keep the original packaging and the piece. Take photos of both packaging and pottery. Please send photos to me within 48 hours of receipt.
Wholesale

If you have interest in placing a wholesale order shoot me an email. On average wholesale orders ship approx 8 weeks from the time deposits are received.