Here's the details: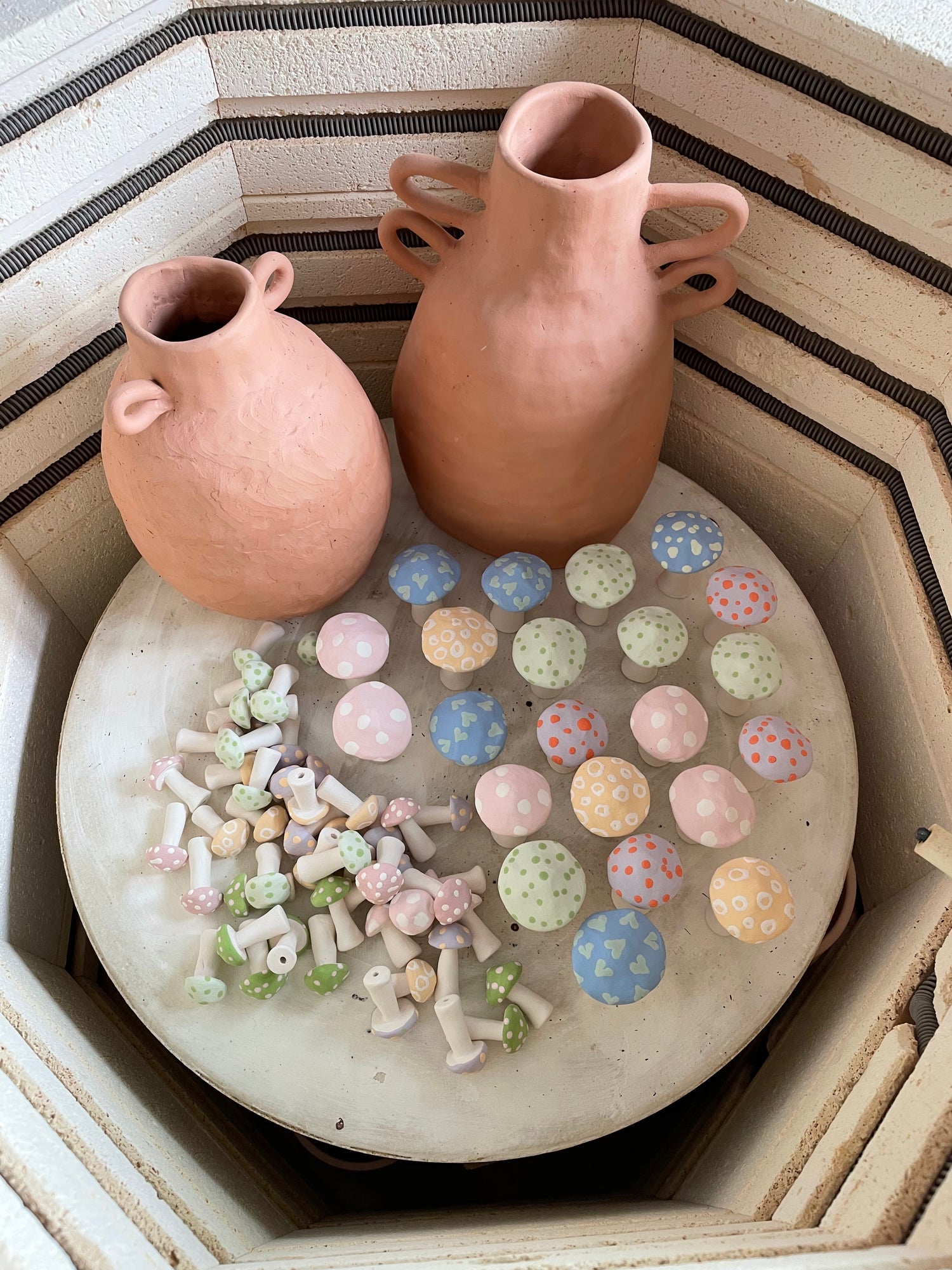 Kiln Info

Brand & Model: CONE ART 1822
Kiln type: ELECTRIC
Internal size: 15" DIA / 20" HEIGHT
Max firing temperature: CONE 6 / 2232 F

Typically I can fit 7-8 coffee mugs per shelf, 3 shelves per firing. I can also add a few shelves with flat items along with the mug shelves. I have a large variety of kiln post sizes to help maximize kiln capacity.
Clay and Glaze Requirements

I'm so happy to have your work in my kiln. Mid-Fire (cone 5/6) clay and glazes only. I will ask for you to identify the clay and glaze you're using before your work can be fired. This is to make sure that your work comes out without issue. And it protects the kiln from getting ruined. (i.e. low fire clay, fired to mid fire temp = HUGE MESS and ruined shelves)

IMPORTANT:

Your work must be bone dry!! I don't have room in the studio to store your work while it's still drying. Please make sure your work is ready to fire when you drop it off. If your piece blows up in the kiln, I'm not responsible for the damage it does to the pieces around it. There will also be a $25 clean up fee.
Glazes that run.... lets make sure your work doesn't stick to the shelf! If you know you have a runny glaze bring a cookie to fire that piece on. Take the necessary precautions: Leave extra space on the body of your piece for the glaze to move. Don't overload the glaze layers. If a piece sticks to the shelf it often breaks and damages the shelf. $25 fee for any piece that sticks to the shelf. If the shelf is damaged to the point it needs to be replaced you will be charged $45.
Care of your work

I will treat your work like my own. Carefully and gently. I cannot be held responsible for any breakage. We all know that ceramics is a heartbreaking sport. Accidents happen and sometimes things just don't make it through the process. That said, I am as careful as humanly possible to keep your pieces safe!
Getting to and from the studio

Main and 2nd is the closest major intersection to my studio. I will provide my full address when we're chatted and you're going to drop off/pick up.

My studio is in my home, also, it's usually a MESS! So if I always come meet you in the lobby, it's because I'm embarrassed about the state of my space. I may have you drop off your work just at the door to my apartment (NOT the lobby). I may leave your work at the door as well. Again, it's because I'm a messy ADHD creative creature who doesn't necessarily want everyone to see that mess.
Transporting your work - Safely

Keeping your work safe is key. Make sure you package it in a way that it can get to and from the studio without breaking. Handles and other attachments need extra care.

Tips:

Make sure the container you put your pieces in is sturdy! This may seem obvious but if you're like me sometimes you're scrounging for a box to use. Make sure it's sturdy. If you're transporting work frequently, invest in a nice rubbermaid type container you can rely on.
Save your packaging from places like amazon.
Cut puffy envelopes you've received into strips and place them between your pieces so they don't bump into each other
Save those air bubble packing thingys that come in many shipping boxes. They make a great soft buffer. They help work from falling over, etc when there is extra space in the box you're transporting in.
Put cardboard between layers of work. If you have a box that is tall enough for say two mugs stacked on top of each other, do it! Cut up a box (clay boxes are great for this) and put a layer of cardboard on top of your first layer of pieces. Then you can stack another layer on top. As long as work is bone dry you don't need to worry about the top layer altering the shape of the layer below.
Fees

Full Klin load:

Bisque: $80 Glaze: $95 Lustre: $60

Individual pieces can be fired as well. When you contact me, let me know how many pieces and sizes. I can provide you an estimated cost for firing. I'm happy to fit your work in with mine when possible.
Stilts, Bead Rods, etc

I have bead rods and a bead rack. The bead rods typically hold 7 Christmas ornaments. Depends on the size and weight of the items hanging from the rod.
The bead rack can accommodate small items/beads. The number that it can hold completely depends on size/shape of the items.

I do not have kiln stilts. Therefore pieces that are glazed on all sides but do not hang from a rod cannot be fired. If you have stilts for a piece like that, bring them. You'll need to make sure to provide specific instructions to me. Please do not assume that I'll know which pieces need special attention.
Turnaround time

When we arrange a firing for your work you need to have a little wiggle room in your schedule. I will always do my best to help you get work fired when you need it. I anticipate being able to provide fairly accurate date/time expectations for firings to be complete and ready for pick up.

During the summer months, temperature can impact firing schedules. If it's really hot outside, I do not fire the kiln. I will communicate with you if anything like this comes up.
Type "kiln" in the comments below and you'll be added to the newsletter specicially for Kiln Firing info, updates, etc!